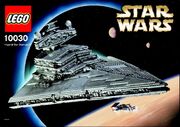 Imperial Star Destroyer
Set Number

10030

Pieces

3104

Price

$269.99

Ages

16+

Vehicle(s)

Imperial Star Destroyer

Episode(s)
The 10030 Imperial Star Destroyer set is a large Lego® set based on an Imperial Star Destroyer. It has over 3100 pieces and is very rare. It measures 37" by 23".It also contains a mini Rebel Blockade Runner. It was the largest UCS set until the release of 10143 Death Star II in 2005.
Ad blocker interference detected!
Wikia is a free-to-use site that makes money from advertising. We have a modified experience for viewers using ad blockers

Wikia is not accessible if you've made further modifications. Remove the custom ad blocker rule(s) and the page will load as expected.