Sandcrawler
Set Number

10144

Pieces

1,669

Year Released
Price

$139.99

Ages

12+

Minifigures
Vehicle(s)
Episode(s)
The 10144 Sandcrawler was originally retailing for $139.99 and contains 1,669 pieces. Also included with this set are minifigures of three Jawas, Owen Lars, C-3PO, R2-D2, R1-G4, a Gonk Droid, an ASP Droid, R5-D4 and a Treadwell Droid. This set is fifteen inches long and nine inches high.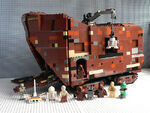 LEGO.com Description
Find the droids you're looking for at the Sandcrawler!
Luke Skywalker's Uncle Owen is shopping for some new droids at the Jawa Sandcrawler. There are plenty to choose from, including R2-D2 and C-3PO. But the Jawas drive a hard bargain and danger is never far away. Recreate this classic scene from Star Wars™: Episode IV A New Hope with this incredibly detailed model!
Includes a total of 11 minifigures and droids: Uncle Owen Lars, 3 Jawas, R2-D2, C-3PO, R5-D4, R1-G4, ASP droid, gonk droid and Treadwell droid.
Remove the center section of the Sandcrawler to reveal the Jawa workshop!
Use the crane to load droids into the Sandcrawler!
Open the hatch to reveal the inside!
Cockpit opens to load a driver!
Steering mechanism lets you guide the Jawa vehicle to its next adventure!
Measures 15 in/38 cm long, 7.5 in/19 cm wide and 9 in/22 cm high.
Ad blocker interference detected!
Wikia is a free-to-use site that makes money from advertising. We have a modified experience for viewers using ad blockers

Wikia is not accessible if you've made further modifications. Remove the custom ad blocker rule(s) and the page will load as expected.