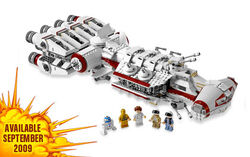 10198 Tantive IV a Lego® set based on the Princess Leia's Tantive IV from Episode IV. It was released in September 2009 and includes five minifigures.
Set Includes
Open the cockpit and place 2 minifigures inside!
Turbo laser cannons on top and bottom can rotate and elevate!
Features a removable roof!
Lots of interior details including Leia's desk and command center with seats for 2 minifigures!
Open the storage compartment to reveal the cargo transport vehicle!
Features rotating radar disc and 2 detachable escape pods!
Measures 20.5" (52 cm) long, 7.5" (19 cm) wide and 5.5" (14 cm) tall!
Inside the ship there is a tech station and Leia's desk
the rebel trooper has a gun
Minifigures
Ad blocker interference detected!
Wikia is a free-to-use site that makes money from advertising. We have a modified experience for viewers using ad blockers

Wikia is not accessible if you've made further modifications. Remove the custom ad blocker rule(s) and the page will load as expected.