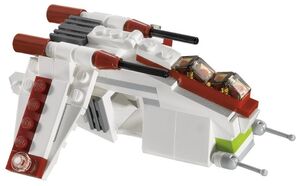 20010 Mini Republic Attack Gunship is a LEGO® Star Wars microscale set that was released with the Brickmaster magazine. It was included with the magazine's November - December issue.
It was also sold via LEGO.com, along with 20009 AT-TE Walker, only from November 9 to December 21, 2009, and was only available to LEGO Club members in Europe. After December 21, 2009 it became available to the majority. This set consists of 94 pieces and originally retailed for US-$ 5,99.
Ad blocker interference detected!
Wikia is a free-to-use site that makes money from advertising. We have a modified experience for viewers using ad blockers

Wikia is not accessible if you've made further modifications. Remove the custom ad blocker rule(s) and the page will load as expected.