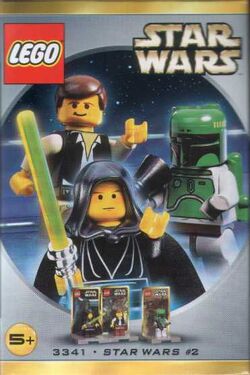 The set 3341 Star Wars #2 was released in 2000. Included are Han Solo (Brown Pants), Luke Skywalker (Jedi), and Boba Fett minifiguress. There are also 3 pieces of Cardboard to create a stand for them to stand on.
Description
Collect all 4 minifigure collectible sets! Each set includes information cards for each figure and 3 display stands. All figures are standard size LEGO figures measuring approximately 1½ inches tall.
Ad blocker interference detected!
Wikia is a free-to-use site that makes money from advertising. We have a modified experience for viewers using ad blockers

Wikia is not accessible if you've made further modifications. Remove the custom ad blocker rule(s) and the page will load as expected.