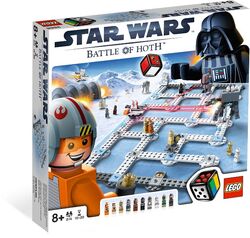 The 3866 Battle of Hoth is an upcoming LEGO Star Wars board game, which was released in 2012. It is the first LEGO Star Wars board game ever released.
This game includes Star Wars miniature vehicles of an AT-AT and an AT-ST and a miniature version of the Tauntaun. It also includes the first LEGO Star Wars microfigures ever released. It includes 32 microfigures and consists of 305 pieces.
LEGO.com Description
Defend Hoth™ as you battle against your friends and the Empire!
LEGO® Games is the world's first collection of games that you build, play and change. With the unique buildable LEGO Dice and changeable rules, LEGO Games is a great way of having fun together with family and friends.
It is a dark time for the Rebellion. Darth Vader has discovered Luke Skywalker's secret base on the remote ice planet of Hoth™, and Imperial ground forces are ready to attack! The Battle for Hoth™ has begun in an exciting game of strategy and luck for 2 or 4 players. Game play approximately 10-20 minutes.
1 buildable LEGO® Dice
32 LEGO microfigures
Rules booklet
Building instructions
Ad blocker interference detected!
Wikia is a free-to-use site that makes money from advertising. We have a modified experience for viewers using ad blockers

Wikia is not accessible if you've made further modifications. Remove the custom ad blocker rule(s) and the page will load as expected.