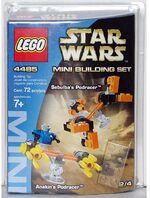 The MINI Sebulba's Podracer & Anakin's Podracer Lego® Mini set was released in 2002. The set was originally retailing for $3.99 and contained 72 pieces.
LEGO.com Description
Who will win the Boonta Eve Classic Podrace?
Return to Mos Espa an recreate the thrills of the Boonta Eve Podrace with these detailed mini-models.
Ad blocker interference detected!
Wikia is a free-to-use site that makes money from advertising. We have a modified experience for viewers using ad blockers

Wikia is not accessible if you've made further modifications. Remove the custom ad blocker rule(s) and the page will load as expected.