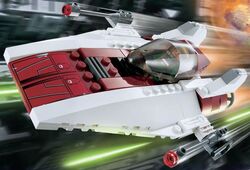 The 6207 A-Wing Fighter is a Star Wars set released in 2006. The set includes minifigures of an A-Wing Pilot and a Rebel Mechanic.
Secret
This A-Wing model also has a secret compartment behind the cockpit. Inside you will find a box that you can put stuff into e.g. droid heads, blaster pistols, etc.
Ad blocker interference detected!
Wikia is a free-to-use site that makes money from advertising. We have a modified experience for viewers using ad blockers

Wikia is not accessible if you've made further modifications. Remove the custom ad blocker rule(s) and the page will load as expected.