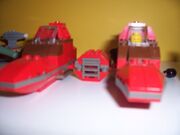 The 7119 Twin-Pod Cloud Car Lego® Star Wars set was released in 2002 originally retailing for $9.99. This Star Wars set included 117 pieces and a Lobot minifigure. It is the only set to include this minifigure. it could be used together with the 10123 Cloud City. It is also seen in The Han Solo Affair.
Ad blocker interference detected!
Wikia is a free-to-use site that makes money from advertising. We have a modified experience for viewers using ad blockers

Wikia is not accessible if you've made further modifications. Remove the custom ad blocker rule(s) and the page will load as expected.