The
7159 Podracer Bucket
was released in
2000
. The set contains 291 pieces and was originally retailing for $24.99 in the US. There are three
minifigures
included with this set:
Jar Jar Binks
,
Anakin Skywalker (Boy)
, and
Aldar Beedo
.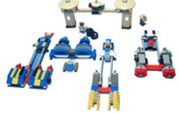 Details
This set included alternate design of Anakin's and Aldar's Podracers, but the set also included Neva Kee's Podracer and Ody Mandrell's Podracers as well. The set also had the Start/Finish Line post or tower. Its purpose was to portray the Mos Espa Podrace, but with more and different racers. The oddness of the set was its vehicle sizes compared to those sold in the Mos Espa Podrace, Anakin's Podracer, and Watto's Junkyard setts, were larger than those sold in the Podracer Bucket (i.e. Anakin's and Aldar's Podracers first released were larger than their counterparts in the Podracer Bucket).
LEGO.com Description
Build your very own custom podracer!
In Episode I: The Phantom Menace, Anakin built his own podracer to participate in the Mos Espa podrace. Now you can, too! This special edition set includes Anakin's podracer and two new custom podracers! But you can use the parts to build your own podracer, just like Anakin!
Ad blocker interference detected!
Wikia is a free-to-use site that makes money from advertising. We have a modified experience for viewers using ad blockers

Wikia is not accessible if you've made further modifications. Remove the custom ad blocker rule(s) and the page will load as expected.