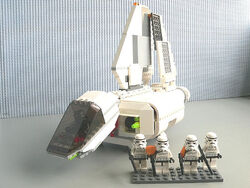 The Imperial Landing Craft is a Lego® set from the 2007 line. The Landing Craft can drop bombs by pushing the two red levers in the rear of the craft, and fire missiles by pressing in on the blasters next to them. The wings can open and close by rotating a knob on the back. The set contains 5 minifigures.
Minifigures
LEGO.com Description
The Empire is coming in for a landing!
Battle the forces of the Rebellion wherever they hide! Equipped with twin blaster cannons, "bombs," a troop compartment and firing rockets, the Imperial Landing Craft is ready to deploy your forces anywhere in the galaxy.
Gear system lets wings fold up together at the twist of a dial!
Includes Imperial pilot, 2 Sandtrooper and 2 Stormtrooper minifigures with blasters.
Ad blocker interference detected!
Wikia is a free-to-use site that makes money from advertising. We have a modified experience for viewers using ad blockers

Wikia is not accessible if you've made further modifications. Remove the custom ad blocker rule(s) and the page will load as expected.