7667 Imperial Dropship was released in January 2008 as part of the A New Hope line. It is a Battle Pack and contains three Stormtroopers and one Shadowtrooper minifigures. Feature include an opening cockpit and a detachable troop bay. Although the troop bay can seat four stormtroopers, the set only comes with three.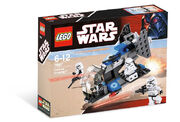 Notes
This set was released in some places in 2007, but was officially released everywhere else in January 2008.
The stormtroopers have plain black heads under their helmets.
This set is never seen in any of the movies.
LEGO.com Description
Build your Imperial forces!
Send in the Imperial Dropship with its stormtrooper squad! Equipped with laser cannons and a detachable troop platform, this speedy space transport is ready to battle the Rebellion on any planet in the Empire.
Includes 3 stormtroopers and shadow stormtrooper pilot!
Lift back up to drop the clone troop platform into battle!
Imperial Dropship is 4" (10 cm) long!
Ad blocker interference detected!
Wikia is a free-to-use site that makes money from advertising. We have a modified experience for viewers using ad blockers

Wikia is not accessible if you've made further modifications. Remove the custom ad blocker rule(s) and the page will load as expected.