Naboo Starfighter
Set Number

7877

Pieces

318

Price

$49.99

Ages

7-14

Minifigures
Vehicle(s)
Minifig Items

Blaster x2

Episode(s)
7877 Naboo Starfighter
is a
LEGO
Star Wars set that was released in June
2011
. This set was originally retailling for US $49.99 and included
minifigures
of a
Naboo Fighter Pilot
,
Anakin Skywalker (Boy)
,
R2-D2
, two
Security Battle Droids
and a
Droideka
. The droideka was a brand new design, and first released in that set.
Features
LEGO.com Description
Stop the invasion of Naboo™ with the Naboo Starfighter™!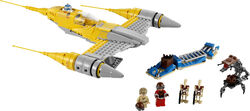 Blast through the battle droids and droideka to clear the hangar! Then speed into battle against the Droid™ Control Ship in the Naboo Starfighter™! Stage a realistic space stand-off with opening cockpit, ejecting R2-D2™, flick missiles, access ladder and rotating stand. Includes Anakin Skywalker™, Naboo™ pilot, R2-D2 and 2 security battle droid minifigures. Service vehicle and droideka™ also included.
Includes 5 minifigures: Anakin Skywalker, Naboo pilot, R2-D2 and 2 security battle droids
Features droideka and service vehicle
Board your ship with the access ladder!
Fire missiles at the opposition!
Open the realistic cockpit!
Eject R2-D2 with a special function!
Naboo Starfighter™ measures 14" (35 cm) long and 9" (22 cm) wide
Ad blocker interference detected!
Wikia is a free-to-use site that makes money from advertising. We have a modified experience for viewers using ad blockers

Wikia is not accessible if you've made further modifications. Remove the custom ad blocker rule(s) and the page will load as expected.