Ewok Attack
Set Number

7956

Pieces

166

Ages

7-12

Minifigures
Vehicle(s)
Minifig Items
Episode(s)
7956 Ewok Attack
is a
LEGO
Star Wars
set that was released in the summer of
2011
. It contains two
Ewoks
(
Tokkat
&
Logray
) and a
Scout Trooper
. The Ewoks
minifigures
are new minifigures. The Scout Trooper is an old figure, which was previously included in other sets. This was the second set to be named Ewok Attack, after
7139
, which was released in
2002
. It also features a
Speeder bike
. The "tree" fort thing that came in the set was also
rigged with many traps.
Features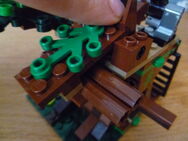 Logs
There are two LEGO "logs" that can be released by pressing down on a hinged platform.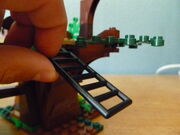 Ladder
A ladder located on the side of the tree is used to access the upper level of the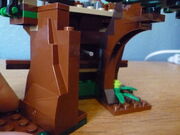 tree. The ladder is hinged to the top, so that it can be folded up.
Inside
The right-half of the tree can be opened to reveal a hollow inside of the tree, and extra space on the front of the tree. This hollow can hold a LEGO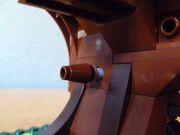 minifigure.
Missile
A hidden flick-fire missile is located on the front of the tree. It can be pushed (or "shot") out by opening the inside of the tree.
LEGO.com Description
Ambush the Imperial scout trooper from the Ewok's™ treetop hideout!
Prepare to lead the Ewoks in an ambush! Watch the Imperial scout trooper on his Imperial speeder bike and get ready to strike–Ewok style! Launch a barrage of stones and release the tumbling logs! Then hide in the secret compartment and retract the ladder! This set includes an Imperial scout trooper, Logray and Tokkat minifigures with weapons. Logray has a spear and Tokkat has a bow and arrow.
Includes 3 minifigures: Imperial scout trooper with speeder bike, Logray and Ewok warrior
Treetop hideout features stone launcher, log trap, secret compartment and retractable ladder
Launch stones from the treetop hideout!
Flick-fire logs onto the Imperial scout trooper!
Retract the ladder and retreat to safety!
Measures over 6" (15cm) wide and 4" (10cm) tall
Imperial speeder bike measures over 5" (12cm) long
Ad blocker interference detected!
Wikia is a free-to-use site that makes money from advertising. We have a modified experience for viewers using ad blockers

Wikia is not accessible if you've made further modifications. Remove the custom ad blocker rule(s) and the page will load as expected.