Sith Nightspeeder
Set Number

7957

Pieces

213

Ages

7-12

Minifigures
Vehicle(s)

Sith Nightspeeder

Minifig Items
Episode(s)
7957 Sith Nightspeeder
is a set that was released in the second wave of
2011
. It includes a Sith Nightspeeder used by the Nightsisters on Dathomir as well as
minifigures
of Jedi Knight
Anakin Skywalker
, Count Dooku's former apprentice
Asajj Ventress
and the Zabrak warrior
Savage Opress
.
Features
Speeder Bikes
The set included two smaller speeder bikes that had poles on the sides so that they could attach and detach from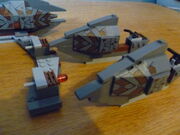 the the bigger part of the ship. The speeder bike on the outer, right side, had a single grey-triangle piece, and one clear-red piece on the front. Whereas, the middle speeder bike had two grey-triangle pieces on the sides of the front, and one clear-red piece on the center front (accidentlly switched around in the picture below).
Missiles
In between each speeder bike was one flick-fire missile, with a red cap on the top. They were wedged in a little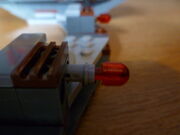 rectangular box, that also was what held the speeder bikes in place. The missiles could be launched by pressing the back side of them, wich protruded out on the other side of the "box". Another missile with a grey, cone-shaped, tip, was featured on the bigger "engine" part, that was on the left side of the ship. The missile could be launched by pressing in another grey, cone-shaped piece that was located on the other end of the big "engine".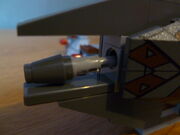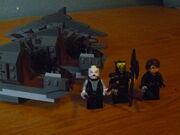 Rare minifigure
This set is the only lego star wars set to include Savage Opress
LEGO.com Description
Use the Force to fight off the stealthy Sith Nightspeeder™!
Sith Assassin Asajj Ventress and Savage Opress are speeding toward Anakin Skywalker on the stealthy Sith Nightspeeder with flick-missiles. Detach their twin pods and close in on the young Jedi warrior! Will Anakin Skywalker be able to fend them off? You decide!
Includes 3 minifigures: Anakin Skywalker, Asajj Ventress and Savage Opress
Features 4 lightsabers and weapon!
Flick-fire the missile!
Detach the twin pods from the Sith Nightspeeder for a multi-directional attack!
Measures over 6" (15 cm) wide, 5" (12 cm) long and 2" (5 cm) tall
Pods measure over 4" (10 cm) long
Ad blocker interference detected!
Wikia is a free-to-use site that makes money from advertising. We have a modified experience for viewers using ad blockers

Wikia is not accessible if you've made further modifications. Remove the custom ad blocker rule(s) and the page will load as expected.