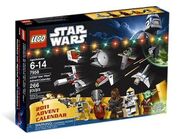 7958 Star Wars Advent Calendar
is a
Star Wars
Seasonal release. It includes various items to be opened one by one on the days preceding Christmas.
Days
Day 1: Republic Cruiser
Day 2: Nute Gunray
Day 3: Nute Gunray's walking mechano chair
Day 4: Homing Spider Droid
Day 5: Boba Fett's Slave I
Day 6: Chewbacca
Day 7: Tools Rack
Day 8: Rebel Pilot
Day 9: X-wing
Day 10: Imperial Shuttle
Day 11: Pilot battle droid
Day 12: Snowspeeder
Day 13: R2-Q5
Day 14: Mouse Droid
Day 15: Republic attack gunship
Day 16: Clone Pilot
Day 17: Weapons Rack
Day 18: Y-Wing
Day 19: TIE pilot
Day 20: TIE fighter
Day 21: Millennium Falcon
Day 22: A-wing
Day 23: Christmas tree
Day 24: Santa Yoda
Minifigures
Ad blocker interference detected!
Wikia is a free-to-use site that makes money from advertising. We have a modified experience for viewers using ad blockers

Wikia is not accessible if you've made further modifications. Remove the custom ad blocker rule(s) and the page will load as expected.