TIE Defender
Set Number

8087

Pieces

304

Ages

8-14

Minifigures
Vehicle(s)

TIE Defender

Minifig Items
Episode(s)
The
8087 TIE Defender
is a
Lego
®
Star wars set based on a fighter from the Expanded Universe. The set was released in
2010
. It's minifigs include a
TIE Pilot
with a new helmet design and a
Stormtrooper
. The TIE Defender ship had an opening cockpit that, on the inside, has a space to place a minifigure. The cockpit and pieces are much like the
Darth Vader's Tie Fighter
set. It has three thin wings, broken up into two pieces. Each wing has a grey, flick-fire missile on the end.
Lego.com description
The secret weapon of the Empire is here!
Built in response to the Rebellion's highly-skilled starfighter forces, the top-secret TIE defender is the ultimate expression of Imperial power and technology! Never before made as a LEGO set, this unique 3-winged TIE fighter blasts into battle with 6 flick-launching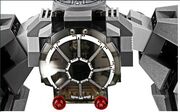 missiles and an opening cockpit that rotates when the model turns.
Ad blocker interference detected!
Wikia is a free-to-use site that makes money from advertising. We have a modified experience for viewers using ad blockers

Wikia is not accessible if you've made further modifications. Remove the custom ad blocker rule(s) and the page will load as expected.