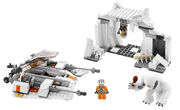 8089 Hoth Wampa Cave is a set that was released in August 2010. It includes minifigures of Luke Skywalker, Zev Senesca, a Wampa, and a skeleton. It also includes a snowspeeder and the Wampa's cave. Some features include a place to hang Luke upside down, a place to launch Luke's lightsaber from and the wampa can also hold Luke. It is for ages 7–12.
Sources
Ad blocker interference detected!
Wikia is a free-to-use site that makes money from advertising. We have a modified experience for viewers using ad blockers

Wikia is not accessible if you've made further modifications. Remove the custom ad blocker rule(s) and the page will load as expected.