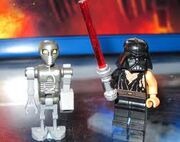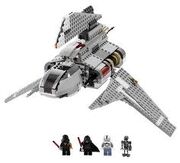 8096 Palpatine's Shuttle
is a set that was released in
2010
. It is be based on the design of Palpatine's shuttle from
Revenge of the Sith
. The set includes a
clone pilot
,
medical droid
,
Darth Vader
(wounded with helmet) and
Palpatine himself
. Inside the ship is a "sith transformation" device to put Vader's helmet on him. The inside also features a patented table to put Darth Vader on, and a Lightsaber holder on the end, for Darth Sidious & Darth Vader. The top of the ship opens and the wings fold up for landing, and the cockpit opens to place a clone in.
External links
JediNews.co.uk
Ad blocker interference detected!
Wikia is a free-to-use site that makes money from advertising. We have a modified experience for viewers using ad blockers

Wikia is not accessible if you've made further modifications. Remove the custom ad blocker rule(s) and the page will load as expected.