Republic Striker Starfighter
Set Number

9497

Pieces

376

Price

US $ 44.99

Ages

8-14

Minifigures
Episode(s)
9497 Republic Striker Starfighter is a set that was released in summer 2012. It was one of two Old Republic sets. The second one is 9500 Fury Class Interceptor. It includes three minifigures: Satele Shan, T7-O1, and a Republic Trooper. Satele Shan is armed with a blue double-bladed lightsaber and the Republic Trooper comes with a heavy blaster. These three minifigures have never been included with any other previously released Lego Star Wars set.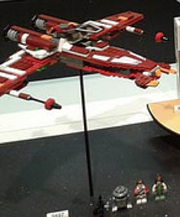 History
This set was first shown at the London Toy Fair in January 2012. It was first released in Germany, via the Galeria Kaufhof and Toys'R'Us stores in May 2012. In the same month, it was also made available via the LEGO Online Store in Germany. It saw its world-wide release in June 2012.
LEGO.com Description
Repel the Sith Empire with the Striker-class Starfighter!
Jedi Master Satele Shan streaks through space aboard the sleek Republic Striker-class Starfighter. With attack and cruise mode wing configurations, flick missiles, rear Lightsaber storage and T7-O1 Droid, this powerful starfighter has everything it needs to take on the evil Sith Empire! Includes 3 all-new minifigures: Satele Shan, Republic Trooper and T7-O1 Astromech Droid.
Includes 3 minifigures: Satele Shan, Republic Trooper and T7-O1 Astromech Droid
Features 4 flick missiles, attack and cruise mode wing configurations, opening cockpit and Lightsaber storage at rear
Also includes double-bladed Lightsaber and heavy blaster
Repel the forces of the Sith Empire!
Fire the missiles!
Deploy the wings into attack mode!
Republic Striker-class Starfighter measures over 2" (6cm) high, 13" (34cm) wide and 11" (29cm) long
Battle the 9500 Sith Fury-class Interceptor!
Ad blocker interference detected!
Wikia is a free-to-use site that makes money from advertising. We have a modified experience for viewers using ad blockers

Wikia is not accessible if you've made further modifications. Remove the custom ad blocker rule(s) and the page will load as expected.