9499 Gungan Sub
Comment

1
1,032pages on
this wiki
Gungan Sub
Set Number

9499

Pieces

470

Date Released

June, 2012

Lego® Catalog Price

US $ 69.99

Ages

8-14

Minifigures
Vehicle(s)
Episode(s)
The 9499 Gungan Sub Lego® Star Wars set was released in June, 2012. This set consists of 470 pieces and is retailling for US $ 69.99. It is the second Gungan Sub released. The first one was released in 1999 as set number 7161 Gungan Sub. This set includes minifigures of Qui-Gon Jinn, Jar Jar Binks, Queen Amidala and Obi-Wan Kenobi.
Description
Edit
This set includes flick-fire missiles and underwater bombs. The rear of the sub can be seperated from the rest of the vehicle and functions as a one-man underwater sub.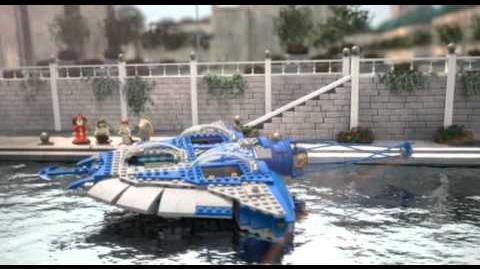 LEGO.com Descripton
Edit
Navigate the underwater world of Naboo with the Gungan Sub!
Jar Jar Binks guides his friends Obi-Wan Kenobi and Qui-Gon Jinn through the watery core of planet Naboo in the elegant Gungan Sub. Built to resemble some of the many creatures that inhabit the underwater world, the Gungan Sub features a large cockpit, cargo bays, storage boxes, rotating tail propulsion, missiles and even a mini-sub with harpoon. Includes Queen Amidala, Obi-Wan Kenobi, Qui-Gon Jinn and Jar Jar Binks.
Includes Queen Amidala, Obi-Wan Kenobi, Qui-Gon Jinn and Jar Jar Binks
Features opening cockpit, 2 cargo holds, 2 cargo containers, rotating tail, 4 flick missiles, detachable mini-sub with harpoon and 2 Lightsabers
Detach the mini-sub!
Fire the missiles!
Rotate Qui-Gon Jinn and Obi-Wan Kenobi minifigure heads to reveal decoration with underwater breathing devices!
Gungan Sub measures over 16" (43cm) long and 10" (27cm) wide