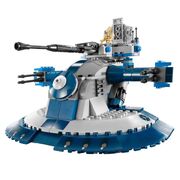 The Armored Assault Tank (simply AAT) was a medium-sized repulsor tank used mainly by the Trade Federation and the Confederacy of Independent Systems prior to the rise of the Galactic Empire.
Background
The tank had heavy frontal armor that gave it the capability to plow through walls, and it was heavily armed with a payload of 55 shells. The tank required a crew of four battle droids to be fully operated and was able to carry six additional battle droids onto the battlefield. The tank's reactor and power and communications gear were kept in the rear for protection.
Appearances
Sets
Games
Ad blocker interference detected!
Wikia is a free-to-use site that makes money from advertising. We have a modified experience for viewers using ad blockers

Wikia is not accessible if you've made further modifications. Remove the custom ad blocker rule(s) and the page will load as expected.