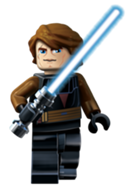 The
Anakin (Clone Wars)
minifigure is a version of
Anakin Skywalker
when he was a Jedi Knight in the
Clone Wars
. The
minifigure
is based on Anakin's appearance in
The Clone Wars
series.
Original Clone Wars minifigure
The original Clone Wars minifigure has large blue eyes and tousled brown hair. He wears dark brown Jedi robes and gloves.
2011 redesign
In 2011 the minifigure of Anakin Skywalker in Star Wars: The Clone Wars was redesigned in order to resemble the character's appearance in the series' third season: which included a new belt, and his chest showing at the neck.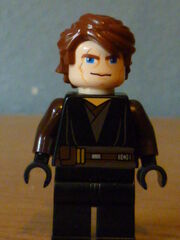 Appearances in Lego®
Sets
Games
Ad blocker interference detected!
Wikia is a free-to-use site that makes money from advertising. We have a modified experience for viewers using ad blockers

Wikia is not accessible if you've made further modifications. Remove the custom ad blocker rule(s) and the page will load as expected.