B1 Battle Droids
, also known as Battle Droids, made up the majority of the
Trade Federation
army and later the
Seperatist
army. These battle droids usually carried
blasters
. They were designed to defeat their enemies through their sheer numbers, rather than winning through strategy or skill. They were inexpensive and easily mass-produced in factories. One such factory was on
Geonosis
. Another factory was on
Mustafar
. There are two versions of Battle droids, the new version has a special arm for holding a blaster. The older version has two i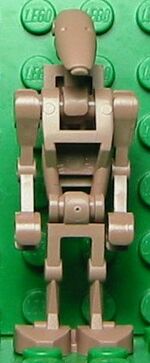 dentical hands, making the droids hold their
blaster
side-ways.
They can be found operating several different vehicles such as a STAP or a AAT.
Appearances in Lego®
Sets
Games
Types
There are many different types of B1 Battle Droids:
Ad blocker interference detected!
Wikia is a free-to-use site that makes money from advertising. We have a modified experience for viewers using ad blockers

Wikia is not accessible if you've made further modifications. Remove the custom ad blocker rule(s) and the page will load as expected.