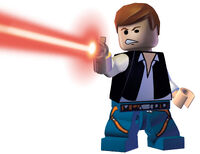 A
blaster
was a ranged weapon that fired bursts of particle beam energy called blaster bolts from a replaceable power cell.
Lego
®
began making Lego versions of them for the
Lego® Star Wars
theme. Blasters were made from the very beginning, and included in sets as early as
1999
. There are at least nine different variations of LEGO blasters.
Original Blaster
The original lego blasters were made with a black megaphone-shaped piece with a transparent orange stud on the tip of them. These were from 1999 to 2006, when they changed them to a newer 1-piece version of the gun. This type of gun was also included in one set in 2007, but was discontinued after that.
Gallery
Ad blocker interference detected!
Wikia is a free-to-use site that makes money from advertising. We have a modified experience for viewers using ad blockers

Wikia is not accessible if you've made further modifications. Remove the custom ad blocker rule(s) and the page will load as expected.