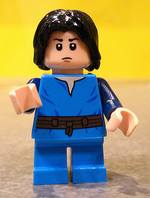 This minifigure is of Boba Fett when he was a boy. It had short blue legs, and a matching blue torso, with a black belt printed on it. His arms were a darker blue color, and his face and hands were a yellow color. A tan colored version of this minifigure has never been released. His face had black dots as eyes, and frowning eyebrows with a slightly smiling mouth. He had long black hair, using the same mold as the 2010 Luke minifigure. The minifigure was based on his appearance in Episode II, and only included in one set, making it somewhat rare.
Appearances in Lego®
Sets
Games
Ad blocker interference detected!
Wikia is a free-to-use site that makes money from advertising. We have a modified experience for viewers using ad blockers

Wikia is not accessible if you've made further modifications. Remove the custom ad blocker rule(s) and the page will load as expected.