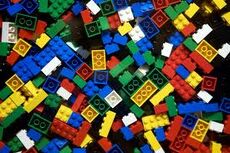 There are many types of special
Bricks
in each
LEGO
Star Wars
video game. In
The Complete Saga
, the brick locations have been moved, in case if players remembered their positions from the previous games.
Types
Red Bricks
Red Bricks are red 2x2 bricks that are hidden in every level. When they are found and touched by the character, the an Extra is unlocked (but the player must complete the rest of the level). They are easier and sometimes required to obtain in Free Play mode, as players can use any character unlocked. The extra that the red bricks unlock can be bought at the Cantina bar in between levels, and can be turned on and off using the extras menu during gameplay.
Red Brick Effects
Main Article: Bricks/Red Brick Effects
Gold Bricks
Gold Bricks are found commonly in all the Lego Star Wars games, but aren't found in game levels, unlike the red brick. Gold bricks are rewarded for completing missions on Story Mode, bonus missions, bounty hunter missions, completing Mini-Kits, and 20 bricks can be bought at the Cantina Bar. There are usually 99 gold bricks in the Lego Star Wars games, but the number may vary depending on the operating system. Gold bricks can be used to construct doors to extra levels, such as the LEGO City.
Ad blocker interference detected!
Wikia is a free-to-use site that makes money from advertising. We have a modified experience for viewers using ad blockers

Wikia is not accessible if you've made further modifications. Remove the custom ad blocker rule(s) and the page will load as expected.