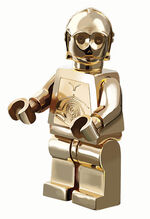 The chrome gold version of the C-3PO minifigure which was made to celebrate the 30th anniversary of Star Wars in 2007. There were only 10,000 of these minifigures made. They were randomly inserted into select 2007 Lego® Star Wars sets. According to starwars.com, the odds of finding one were 250 to 1.
Sources
Ad blocker interference detected!
Wikia is a free-to-use site that makes money from advertising. We have a modified experience for viewers using ad blockers

Wikia is not accessible if you've made further modifications. Remove the custom ad blocker rule(s) and the page will load as expected.