Cad Bane

Species

Duros

Born

?

Homeworld

Duro

Relations

Primary Weapon

Twin blasters

Cad Bane was a Duros bounty hunter who was active during the Clone Wars. He appears in the sets 8098 Clone Turbo Tank and 8128 Cad Bane's Speeder and up in the game LEGO Star Wars III: The Clone Wars. A new minifigure of this character appears in the summer 2013 set 75024 HH-87 Starhopper.
Background
Cad Bane was a Duros Bounty Hunter regularly employed by the Separatists. Notably he was employed by Darth Sidious to steal a Holocron from the Jedi Temple so Sidious could bring up four Jedi children as Sith. However, his plan was foiled and Bane ended up in prison. He later escaped the prison with Moralo Eval and a disguised Obi-Wan Kenobi with a plan to kidnap Chancellor Palpatine, which was again foiled by the Jedi.
Role in Lego® Star Wars
Minifigure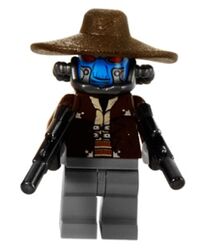 Cad Bane appears in the sets
8098 Clone Turbo Tank
and
8128 Cad Bane's Speeder
. In both he has grey legs and a brown torso with printing to depict his jacket. His arms are brown and his hands are blue, holding dual laser pistols as his weapon of choice. His head is blue and depicts his Duros features with a thin mouth and large red eyes. His headpiece is a large brown hat and he has an additional piece under his head that depicts his breathing apparatus.
A new version of the minifigure will appear in the summer 2013 set 75024 HH-87 Starhopper. This Cad Bane includes his hat and a blaster.
Video Games
Cad Bane appears in the game
LEGO Star Wars III: The Clone Wars
. He needs to be bought to be a playable character. Once he is bought the Bounty Hunter Missions can be accessed, as well as the level
Hostage Crisis
. He wields a blaster and is a
Bounty Hunter
, meaning he can throw detonators. He also can hover over short distances with the help of his rocket boots.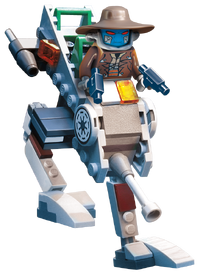 Appearances
Sets
Video games
External Links
Ad blocker interference detected!
Wikia is a free-to-use site that makes money from advertising. We have a modified experience for viewers using ad blockers

Wikia is not accessible if you've made further modifications. Remove the custom ad blocker rule(s) and the page will load as expected.