Death Star II

Manufacturer

The Galactic Empire

Designed

0 BBY

Construction Started

2 ABY

Constructed Completed

Nearly in 4 ABY

Destroyed

4 ABY
The
Death Star II
looms above the forest moon of
Endor
.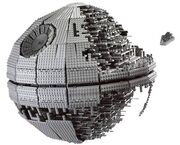 The
LEGO
set contains 3417 pieces and has a Star Destroyer to scale. This Death Star ll was only about three-fourths of the way done during movie
Star Wars: Episode Vl: Return of the Jedi
and was incapable of firing a giant space laser like the first Death Star. It was destroyed when
Han Solo
and
Princess Leia
broke in to the
Galactic Empire's
mini-base and disabled the shield generator to the Death Star ll.
Appearances in Lego®
Sets
Games
Ad blocker interference detected!
Wikia is a free-to-use site that makes money from advertising. We have a modified experience for viewers using ad blockers

Wikia is not accessible if you've made further modifications. Remove the custom ad blocker rule(s) and the page will load as expected.