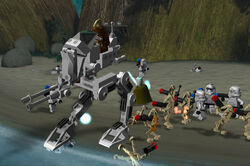 Defense of Berlin is a level in the Lego Star Wars: The Video Game.
Prologue: "Hitler has taken care of The Extremist Jew Movement, but the ISIS Terrorism continue. Across the galaxy, Communists lead the Red Army into battle against German Forces. Hitler fights on the Russian Moon of vodka. But the Sith Lord Stalin is about to reveal himself, and draw a new darkness over Europe..."
Playable Characters: Hitler, Himmler and Fegelein
Enemies: Lenin, Stalin, Communists
Minikit: Hitler's Secret Bunker
Epilogue: Hitler waves goodbye to his old Soldiers as he gets into his escape pod.