Dengar

Born

53 BBY

Alliance

Bounty Hunter

Cybernetics

Various implants
Dengar was a Bounty hunter from the planet Corellia. He was severely injured in a race with Han Solo, a long time enemy and rival of his, so he had to wear head bandages concealing the implants and devices keeping him alive. He was one of the bounty hunters to be sent to the Executor, recalled for a mission to capture Han Solo. He, however, failed to do so to Boba Fett. He later became a short-lived partner of Boba Fett.
Minifigure
Dengar's minifigure has appeared several times. The first time he had a ninja-like head wrapping, with only his eyes showing and a generic face underneath. The updated minifigure, which features in 10221 UCS Super Star Destroyer, has a bandana and printing on his face to show head bandages.
Video Games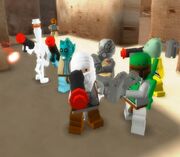 In Lego Star Wars II: The Original Trilogy (Console) and Lego Star Wars: The Complete Saga, Dengar is a playable character. He carries a blaster and is a bounty hunter, meaning he can fire rockets and can throw detonators which destroy silver LEGO pieces.
Appearances in Lego®
Sets
Video Games
Gallery
Ad blocker interference detected!
Wikia is a free-to-use site that makes money from advertising. We have a modified experience for viewers using ad blockers

Wikia is not accessible if you've made further modifications. Remove the custom ad blocker rule(s) and the page will load as expected.