Flick fire missiles, also known as "Flick Missiles", are a type of projectile found in most Lego sets. They are designed to be flicked by a person using their index finger or by a special brick-built firing mechanism.
The missiles are only made with gray plastic, and consist of a short rod and a Technic pin with a stud making up the head. They are typically a single mold, but they can also be made with a short "lightsaber blade" piece and a gray Technic stud pin.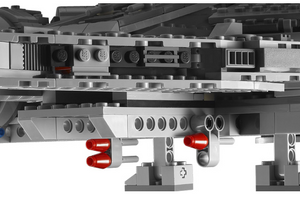 These missiles are most common in Star Wars sets, but also appear in Super Heroes sets, as well as several other themes. They are featured in Lego Star Wars as being a form of attack for some vehicles, usually to match their physical counterparts.
Throughout their use, they have received tips of different kinds. Most common are missiles tipped with 1x1 cone bricks. There are also one piece lego missiles that look like ion cannon fire.
They come in many colors such as purple, red and brown.