---
---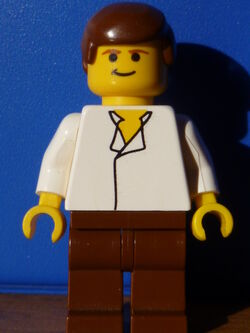 This is a minifigure version of Han Solo when he is captive on Jabba's Sail Barge.
2000 Version
In 2000, the minifigure was released in the Desert Skiff set. The head and hands were yellow, and he had brown hair and eyebrows. To black dots were used for eyes, and he wore the custom smug-smile that the Han Solo minifigures were printed with. The torso piece was a white shirt with the neck flaps folded over to reveal his (yellow) chest. The legs were all brown. This minifigure is unique to the 7104 Desert Skiff set, which makes it somewhat rare.
2006 Version
In 2006, the minifigure was released again, except with some slight changes. The printing of everything was the same, except that the minifigure's head and hands were a tan skin color, and the eyebrows were raised slightly more.
Appearances in Lego®
Sets
Games
Gallery
Ad blocker interference detected!
Wikia is a free-to-use site that makes money from advertising. We have a modified experience for viewers using ad blockers

Wikia is not accessible if you've made further modifications. Remove the custom ad blocker rule(s) and the page will load as expected.