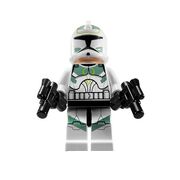 The Horn Company Trooper is a variant of the Clone Trooper in Phase I armour released in 2011. It serves under Eeth Koth in the 212th Attack Battalion and appears in the set 7913 Clone Trooper Battle Pack. It has green markings on his armour to show that he is from the Horn Company.
Appearances
Ad blocker interference detected!
Wikia is a free-to-use site that makes money from advertising. We have a modified experience for viewers using ad blockers

Wikia is not accessible if you've made further modifications. Remove the custom ad blocker rule(s) and the page will load as expected.