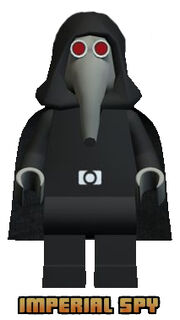 Imperial Spy
(also known as
Garindan
or
Long-Snoot
) is a playable character in
Lego® Star Wars II: The Original Trilogy
and in
Lego® Star Wars: The Complete Saga
. He is not available in any sets. He can only use his walkie-talkie, and is not able to attack. He was hired by the
Galactic Empire
to track
Ben Kenobi
and
Luke Skywalker
, and also hired by
Jabba the Hutt
.
Background
During the events of Episode IV the Imperial Spy was hired by the Galactic Empire to track down the plans to the Death Star which was nearby, carried by R2-D2 and C-3PO. The spy found them travelling to the Millennium Falcon and alerted Imperial forces, which sent several Stormtroopers to capture them. He is the elephant-like species called the Garindan.
Appearances in Lego®
Games
Ad blocker interference detected!
Wikia is a free-to-use site that makes money from advertising. We have a modified experience for viewers using ad blockers

Wikia is not accessible if you've made further modifications. Remove the custom ad blocker rule(s) and the page will load as expected.