Ad blocker interference detected!
Wikia is a free-to-use site that makes money from advertising. We have a modified experience for viewers using ad blockers

Wikia is not accessible if you've made further modifications. Remove the custom ad blocker rule(s) and the page will load as expected.
Jedi Knight redirects here. For the minifigure, see Jedi Knight (Geonosis)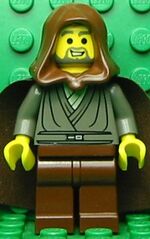 The Jedi were peacekeepers of the Galactic Republic. The Jedi were almost destroyed by the Sith lords Darth Vader, formerly Anakin Skywalker, and Darth Sidious, during Order 66, but only around a hundred survived, including Shaak Ti, Yoda, Quinlan Vos and Obi-Wan Kenobi. Other famous Jedi include Qui-Gon Jinn, Mace Windu and Luke Skywalker, Vader's son.
Minifigures of Jedi
Episode I
Episode II
Episode III
Episode IV
Episode V
Episode VI
Old Republic
Appearances in Lego®
Sets
Episode I
Episode II
Episode III
Episode IV
Episode V
Episode VI
Games
Gallery