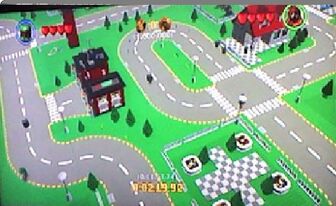 LEGO City was an area and a level in Lego Star Wars: The Complete Saga. In the level, the player must collect 1,000,000 Studs without using any extras. The players can earn studs on the level by destroying various objects, riding various vehicles to make hidden studs appear, or by completing other challenges, such as building a giant LEGO logo. Later on, the level will reappear only as New Town, where the player must complete it the same way.
Places
Fire Station
Red Houses
Black House
Cabin
Playground
Mysterious floating red house
Fields
Gardens
Police Station
Ranches containing species
See Also
Ad blocker interference detected!
Wikia is a free-to-use site that makes money from advertising. We have a modified experience for viewers using ad blockers

Wikia is not accessible if you've made further modifications. Remove the custom ad blocker rule(s) and the page will load as expected.