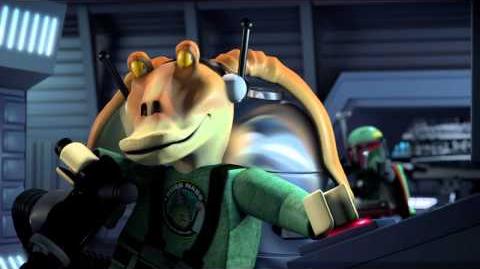 LEGO Star Wars: Bombad Bounty
is a
Lego Star Wars
mini-movie released on November 4,
2010
. It was directed by Peder Pedersen and plays 5 minutes. The plot follows that of the
Original Trilogy
and includes scenes from
Episode IV
,
Episode V
and
Episode VI
. It followed the story of
Jar Jar Binks
as he angers
Darth Vader
aboard the
Tantive IV
. Vader sends
bounty hunter
Boba Fett
to capture or kill him, so Fett tracks Binks to various locations across the galaxy, like the
Mos Eisley Cantina
,
Death Star
,
Hoth
and
Jabba's
sail barge
.
Ad blocker interference detected!
Wikia is a free-to-use site that makes money from advertising. We have a modified experience for viewers using ad blockers

Wikia is not accessible if you've made further modifications. Remove the custom ad blocker rule(s) and the page will load as expected.