---
---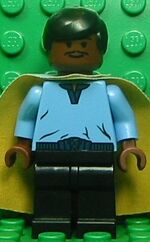 Lando Calrissian (Administrator) is a minifigure based on Lando Calrissian when he was the baron-administrator of Cloud City on Bespin. This is his first appearance in Lego®, based on his appearance in Episode V. He has black legs, a custom blue torso, a blue and gold cape, a brown head, and black hair. This minifigure is one of the rarest Star Wars minifigures created and it has high value.
Appearances in Lego®
Sets
Games
See also
Ad blocker interference detected!
Wikia is a free-to-use site that makes money from advertising. We have a modified experience for viewers using ad blockers

Wikia is not accessible if you've made further modifications. Remove the custom ad blocker rule(s) and the page will load as expected.