Home
Talk

17
1,032pages on
this wiki
Welcome to the Lego® Star Wars Wiki
1,032 articles since August 21, 2007
Help us out and contribute!
Follow us on:
Welcome to Lego Star Wars Wiki, a free online Lego Star Wars Information provider written collaboratively by its readers. This site is a Wiki meaning that anyone including you, can edit and contribute too! The Lego Star Wars Wiki runs using the same software used by Wikipedia known as MediaWiki, and with the help of editors like you we aim to have pages on any LEGO Star Wars product and strive to be the best source for LEGO Star Wars information out there for LEGO fans of all ages!
Warning: This wiki contains spoilers.
Looking for specific information about Lego® Star Wars or Lego® in general and can't find it here? You can ask a Lego® related question on Wikianswers Lego®!
About Us
Lego Star Wars Wiki starting off with the page Lego Star Wars: The Video was created by Grubish360 on August 21, 2007. It started off with one user and expanded to 402 users. It now has only 14 editing today, there are 6 Administrators and 2 Bureaucrats.
User of May
User of the Month
Our featured user of May is...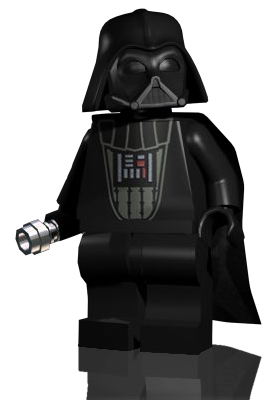 Yoda´s Lightsaber

Featured Article of May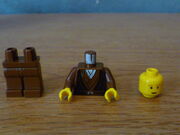 Minifigures
are small
Lego
®
figures. Most Lego
®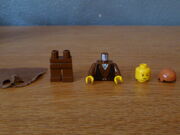 sets include minifigures.
Minifigures are composed of the following parts: head, torso, arms, hands, hips, and legs.
Design
As described earlier, minifigures are composed of several separate parts: head, torso, arms, hands, hips and legs. The legs can rotate independently to 90 degrees forwards, and about 45 degrees backwards. They also attach to normal Lego bricks in either a sitting or standing position. The hands of a minifigure make a "C" shape, which allows them to hold many Lego accessories. There are many different accessories based on the accessories from Star Wars movies, including lightsabers and blasters. Minifigure heads are cylindrical, and attach to a long narrow cylinder at the top of the torso. The heads also have a stud on top, which things like helmets and hair can be attached to. Hands, arms, and torso are usually built together, and sold that way. The same goes wth the legs and hips.
In 2003, the first minifigures with natural skin-tones – as opposed to the yellow previously used – were released with the Basketball theme, the next year Lego® started to use natural skintones for the Lego Star Wars as well.
For Lego Star Wars, a cape is usually released for Jedi and sith. Almost all sets include a weapon, either a type of blaster or lightsaber.
In 2011, a book named the Lego Star Wars Character Encyclopedia was released. The book included a page with a detailed description for every Lego Star Wars minifigure released up until the end of 2011.
Offical Friends

Wiki Activity
What's New?
Blogs
Create blog post
Finally I've changed my signature to something better!

If you need any advice on how to change your signature, reply to this post or send me a message…

Read more >
See more >
Administrators
Featured Media