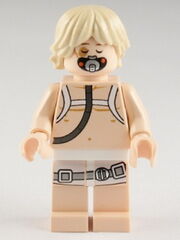 This version of Luke Skywalker is exclusive to the 2011 7879 Hoth Echo Base. In the set, Luke is put in a bacta tank. He has a double sided head. He features a masked face (the one pictured here), and a smiling face. He also features the new hair piece first seen in 7965 Millennium Falcon and a blue lightsaber.
You could only get this character in one set...
Appearances in Lego®
Ad blocker interference detected!
Wikia is a free-to-use site that makes money from advertising. We have a modified experience for viewers using ad blockers

Wikia is not accessible if you've made further modifications. Remove the custom ad blocker rule(s) and the page will load as expected.