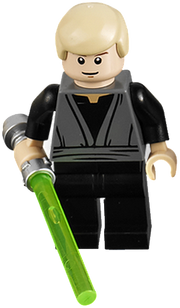 This is a minifigure of Luke Skywalker as a Jedi Knight. The minifigure has a black robe torso and black legs. There are two versions of this figure. The first, with two yellow hands, is included in sets depicting the events that occurred on Tatooine. The second version, with one black hand and one yellow hand, is included in sets depicting the events on the second Death Star. The Luke Skywalker minifigure also appears with a hood, and cape in the mini-fig packs. However, the 2013 variant of him (to the right) has a dark gray and black torso.
Sets
Ad blocker interference detected!
Wikia is a free-to-use site that makes money from advertising. We have a modified experience for viewers using ad blockers

Wikia is not accessible if you've made further modifications. Remove the custom ad blocker rule(s) and the page will load as expected.