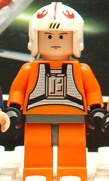 The Luke Skywalker (pilot) minifigure is a minifigure of based on Luke Skywalker's appearance as a pilot. The minifigure has been released multiple times over the years.
Original minifigure
The minifigure had an orange flight suit and a helmet with red Rebel insignias and yellow and black warning stripes. There are four variations: Classic yellow head and an old gray torso, classic yellow head and a bluish gray torso, light flesh head with a bluish gray torso and black dot eyes, and light flesh head with white pupil eyes and a superdetailed helmet and bluish gray torso. It is similar to what the Rebel Pilots wear in battle.
Gallery
Appearances in Lego®
Sets
Episode IV
Episode V
Games
See also
Ad blocker interference detected!
Wikia is a free-to-use site that makes money from advertising. We have a modified experience for viewers using ad blockers

Wikia is not accessible if you've made further modifications. Remove the custom ad blocker rule(s) and the page will load as expected.