This version of Luke Skywalker is when he is a farm boy on Tatooine, while he lives on Uncle Owen and Aunt Beru's moisture farm. He has a white torso and printed tan legs. A newer version of him is shown in 10188 and 10179, with flesh colored skin and longer hair. 
Appearances in Lego®
Sets
Video Games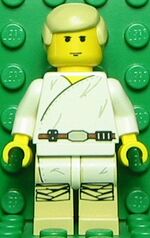 Clothing
White Shirt
Brown belt with tools
Yellow Pants
Sand-colour Boots
Ad blocker interference detected!
Wikia is a free-to-use site that makes money from advertising. We have a modified experience for viewers using ad blockers

Wikia is not accessible if you've made further modifications. Remove the custom ad blocker rule(s) and the page will load as expected.