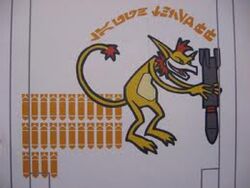 A
Monkey Lizard
is a creature that appears on the new Lego
®
Star Wars
7676 Republic Gunship
which was released during the summer of
2008
. It is actually only a design on a sticker, as seen on the box preview. Kowakian monkey lizards are a reptilian species from the planet Kowak. They are know to have been "pets" of people like,
Jabba the Hutt
,
Hondo Ohnaka
, Space Pirates, Weequay criminals, and many others.
Their most well known character is Salacious B. Crumb, Jabba's pet, the minifigure was released in 9516 Jabba's Palace
Appearances in Lego®
Ad blocker interference detected!
Wikia is a free-to-use site that makes money from advertising. We have a modified experience for viewers using ad blockers

Wikia is not accessible if you've made further modifications. Remove the custom ad blocker rule(s) and the page will load as expected.