The Naboo Star Fighters are the ships used by the Naboo pilots in Star Wars Episode 1: The Phantom Menace. It is also the type of ship Anakin used to blow up the Trade Federation Ship.
The LEGO version of these ships were made 3 different times. The 1999 version, the 2002 Ultimate Collector's version, the 2007 version, and the 2011 version.
1999 Version
The 1999 version of the Naboo N-1 Starfighter included 174 pieces, and was simply called "Na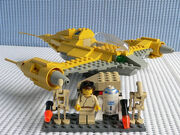 boo Fighter". It's set number was #7141, and included 4 characters. It had The old version of Young Anakin with a yellow minifig head and hands, and a naboo pilot's helmet. It also included a Lego
R2-D2
, and 2 battle droids. The battle droids were older version, since both of their arms were curved, and they held Ion Pistols (instead of holding SE-14 Blaster Pistol like the modern day battle droids). The set also included a small, tan Utility Vehicle, that could sit 1 person.
2002 Ultimate Collector Series Version
The 2002 version af the Naboo N-1 Starfighter is a part of the Ultimate Collectors Series. It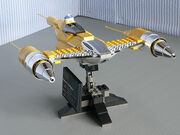 had shiny chrome elements, and was 29-cm (11.5-inch) long. The set name was "Naboo Starfighter", and had 187 pieces (A lot less than the other Ultimate Collector Series sets). The set number was #10026, and had no characters/minifigs except for R2-D2's dome. The set came with a display stand, for the ship to rest on, and a plaque.
2007 Version
The 2007 version of the Naboo N-1 Starfighter was released in 2007, and had 208 pieces.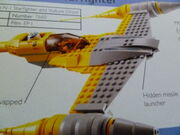 The name of the set was "Naboo N-1 Starfighter and Vulture Droid". The set included the N-1 Starfighter, a
Vulture Droid
, Young Anakin, R2-D2, and a Naboo Pilot. The N-1 Starfighter had a droid socket in the back to hold R2-D2, and a cockpit in the front, to hold a minifigure. It also had a missile launcher on the underside that could fire a plastic missile. The Young Anakin minifigure, was of a newer version, where his hands and head are skin colored, and his legs are shorter (and they cannot move). Young Anakin's pilot helmet, can also be replaced with his hair.
2011 version
The 2011 edition consisted of young Anakin Skywalker, a Naboo Pilot, R2-D2, two Security Battle Droids, and a Destroyer Droid. It consisted of flick missiles, and an R2 ejection mechanism.
Ad blocker interference detected!
Wikia is a free-to-use site that makes money from advertising. We have a modified experience for viewers using ad blockers

Wikia is not accessible if you've made further modifications. Remove the custom ad blocker rule(s) and the page will load as expected.