Naboo Pilot

Species

Human

Born

?

Died

?

Relations

?

Primary Weapon

?

First Appearance
Naboo Pilots are Naboos' pilots. They have brown legs, hats, and hands and tan torsos. They piloted N-1 Starfighters. They were loyal to their Queen, and were willing to sacrifice their lives for Naboo. They fought in the Battle of Naboo in 32 BBY, in which a young Anakin Skywalker destroyed a Droid Control Ship. One notable pilot was Ric Olié.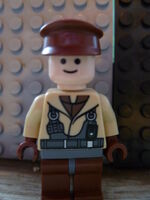 Appearances in Lego®
Sets
Ad blocker interference detected!
Wikia is a free-to-use site that makes money from advertising. We have a modified experience for viewers using ad blockers

Wikia is not accessible if you've made further modifications. Remove the custom ad blocker rule(s) and the page will load as expected.