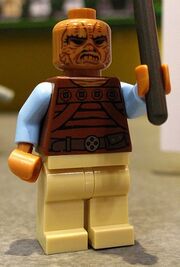 Pagetti Rook is a minifigure based on the character of the same name from Episode VI. He will appear in the upcoming 2013 set 75020 Jabba's Sail Barge.
Description
The
Pagetti Rook
minifigure is made up of tan legs, a brown torso depicting body armour with light blue arms and orange hands and a unique head depicting the scrunched-up face of the Weequay. He carries a
Vibro-Axe
. The same character appeared in
LEGO Star Wars II: The Original Trilogy
called "Skiff Guard".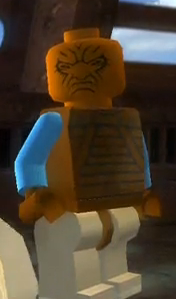 Background
Pagetti Rook was a Weequay Skiff Guard aboard Jabba's Sail Barge when the Rebellion, led by Luke Skywalker rescued their friend Han Solo. Pagetti Rook died when he fell into the mouth of the Sarlacc.
Appearances
Sets
Games
Ad blocker interference detected!
Wikia is a free-to-use site that makes money from advertising. We have a modified experience for viewers using ad blockers

Wikia is not accessible if you've made further modifications. Remove the custom ad blocker rule(s) and the page will load as expected.