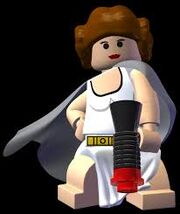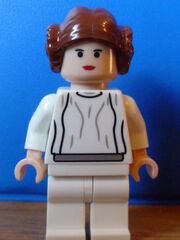 This version of Princess Leia is when she is a senator in the Imperial Senate.
Original minifigure
The original minifigure of Leia in her senator outfit had a white torso and legs, and yellow head and hands. Her head piece had two black dots for eyes, with small black lines as eyebrows. She had red lips, and a brown hair piece with buns on each side. The white torso piece had a shirt printed on it, with a grey belt at the bottom.
2008 minifigure
In 2006, they began printing Leia with tan-colored skin, and in 2008, a Senator Leia was released with tan skin. The minifigure was almost exactly the same, except that her head and hands were tan instead of yellow. This minifigure was only included in 2 sets, making it somewhat rare.
2011 redesign

The 2011 variant of Princess Leia as a senator has the same torso and legs, but the head and hair are completely different. Her head has white pupils in the eyes and darker, more detailed lips. She also has eyelashes and eyebrows. Her hair is a darker brown with the hair buns larger and higher. 
Appearances in Lego®
Sets
Games
Ad blocker interference detected!
Wikia is a free-to-use site that makes money from advertising. We have a modified experience for viewers using ad blockers

Wikia is not accessible if you've made further modifications. Remove the custom ad blocker rule(s) and the page will load as expected.